Senior downsizing can be tough. It's hard enough to downsize for seniors without worrying about the services that can be of need. Shields Estate Solutions is a Lenexa, KS company that provides objective and expert assistance, no matter the size of your estate. With their compassion and guidance, our professionals make it easier to complete a complicated process. This allows you to keep the things that matter most.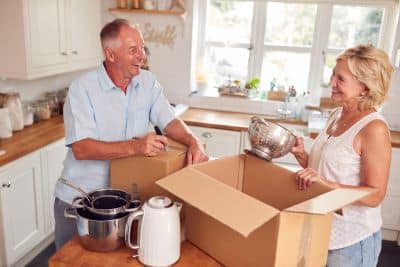 It may be time to downsize if you or an aging relative have difficulty keeping up with household demands. We create and implement organizational plans that simplify your life so you can move into the next stage of life with a refreshing new outlook.
Memories and possessions from a lifetime
For seniors, downsizing can be a difficult and stressful experience. Shields Estate Solutions involves a process to make senior downsizing less stressful and easier. After a lifetime spent in one home, our buyout services offer senior citizens all the estate solutions they need to downsize their home.
Shields Estate Solutions aims to help seniors keep the things they love from their life of memories and possessions, while leaving the rest up to us. These belongings are very important to seniors. We will help seniors move on to the next phase of their lives by taking on the burden of reducing their belongings.
We offer tailored services to meet senior citizens' individual needs. A "downsizing general contractor" will help organize a team to assist with everything, from moving to estate sale and much more.
Space Solutions for Seniors
Do you have a senior citizen looking for ways to make their living space more manageable? Shields can help you. Our team has the resources and experience to transform your home into a space that suits your needs and wants.
Many seniors age in a way that allows them to downsize. There are many reasons why this decision is made, including practical logistics, lifestyle changes and medical issues. Seniors often downsize because of the layout and size of their property.
 Many seniors are choosing to downsize to be more practical. There are many factors that drive this trend, such as logistics, stairs, small doors, and other home features that make it more difficult.
 It May Be Time to Take Action
Our housing choices become more important as we age for security and safety reasons. Assistance is available for anyone who wants to move or make adjustments to their home.
 These tips will help you make the most out of your experience.
Take initiative and evaluate all options.

Get professional assistance – Don't spend your time trying to solve complicated problems by yourself. Get expert assistance from knowledgeable customer service agents!
Shields Estate Solutions can provide an impartial assessment tailored to your needs.
To reduce the stress of downsizing in Lenexa. KS

Get in touch with our team of professionals!
 We can help you with your estate sale or liquidation process.
Contact us today!