Estate Sale Solutions
You won't find better estate sale solutions than someone to come in and empty your house for you. At Shields Estate Solutions we will take the stress out of selling everything in your home – let us create an effortless solution for you today!
We understand that preparing to move, after many years of living in the same residence, can be physically and emotionally challenging, to say the least. Or after the death of a loved one the family home must be cleaned out to prepare for sale. The "Solution" is simple. We empty houses. We take EVERYTHING.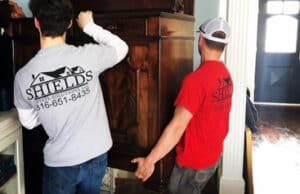 Our staff work hard to sort the items in your home. Thereby, identifying valuable articles in your home to offset our sorting costs while making sure that all trash is disposed of properly. When applicable, we donate appropriate items to charities that are in need and recycle whatever we can. Our goal is to ensure that nothing goes to waste, especially when it could be put towards a good cause!
Not everything can be deemed as "junk," so we take extra caution when evaluating each of your items for potential value or donation possibilities. In return for our services, we will pay you the difference between what we can make from selling these items and our costs of sorting them. Here at  Shields Estate Solutions, we believe that the solution should never be more complicated than the problem itself – and we want to help you move on to your next chapter of life.
Let Us Know How We Can Help
Estate Sale Solutions in the Kansas City Area
Proudly Serving: Belton, Blue Springs, Excelsior Springs, Gladstone, Grandview, Hardin, Independence, Kansas City, Leavenworth, Leawood, Lee's Summit, Lenexa, Lexington, Liberty, Mission, Olathe, Overland Park, Richmond, Shawnee, Smithville, St. Joseph, and all surrounding Kansas City Metro areas.