Senior downsizing is hard enough without having to worry about finding the right services. Fortunately, Shields Estate Solutions in Leawood, KS provides expert and objective assistance no matter how big or small your estate may be. Our professionals make a difficult process much easier with their compassionate guidance through every step of the way – so you can keep what matters most!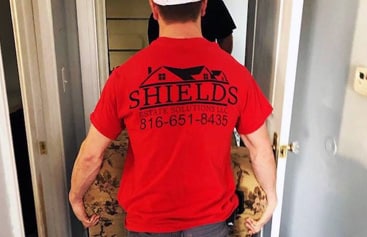 Memories and Possessions From A Lifetime
Senior downsizing can be an overwhelming and emotionally draining experience, especially for the senior citizens who are dealing with the task. As a result, Shields Estate Solutions has created a process that makes senior downsizing easier and less stressful to manage. Our buyout services provide senior citizens with all the necessary estate solutions to downsize their home and possessions after spending a lifetime in one residence.
At Shields Estate Solutions, our goal is for senior citizens to keep what they want from their lifetime of memories and possessions while leaving everything else up to us. We recognize how important these belongings may be for seniors. We are dedicated to taking on the burden of  downsizing so those individuals can continue on with the next stage of their lives.
Our tailored services are available to match senior citizens' unique needs, providing a "downsizing general contractor" who will organize a team of experts to help with everything from moving, to estate sales, and more. 
Space Solutions for Seniors
Are you a senior citizen who is in search of ways to create a more manageable living space? If so, the experts at Shields are here to provide assistance and support. Our team has the experience and resources necessary to turn your home into an environment that meets your individual wants and needs.
Downsizing is a common choice for many seniors as they age. This decision can be due to a variety of reasons, from practical logistics to medical needs and lifestyle changes. One of the primary reasons for senior downsizing is related to the physical layout and size of their current property.
Senior downsizing is an increasingly popular choice for many senior citizens, who opt to move away from traditional larger homes with more space and amenities, and instead opt for something more practical and tailored to their needs. This senior downsizing trend is driven by a variety of factors, including logistics – stairs, small doorways and other features that make life more difficult.
Be Proactive
As we age, our housing options become increasingly crucial for safety and security reasons. Whether you wish to stay in your current home and make necessary adjustments or move somewhere else entirely, assistance is readily available!
If you want to make the most of your experience, we suggest these tips:
Be Proactive – take some time to evaluate all of your choices.

Seek Professional Assistance – don't waste valuable resources trying to solve complex issues alone. Reach out and get expert support from customer service agents who are knowledgeable in their field! 

Contact Shields Estate Solutions – let our team provide an unbiased assessment that will be tailored specifically for you and your family's needs.
Let Our Team of Professionals
Ease the Stress of Downsizing in Leawood, KS. 
We are here to provide support and guidance during your estate sale or liquidation process – contact us today!