House Cleanouts
The house cleanout process is really simple. Our job at Shields Estate Solutions is to find items of value to help offset the cost of getting a house emptied out. Often, when families are dealing with the task of cleaning out a house, they may not have the knowledge or resources to identify items of value that can be sold. Not only that, the family, as well as the client can have strong emotional ties to the property. Those bonds can make cleaning out more difficult. That's where we come in!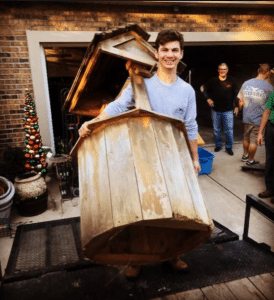 With house cleanouts, we assist families by evaluating items in the home and identifying those that have potential value. This allows the client to get the most out of their cleanout process. There is no need for you to do the work or pay to have the remainder hauled away. We understand how overwhelming this task can be for our clients and their family members, which is why we also do all the hard work for you.  So, therefore from packing up unwanted items to hauling them away we'll make sure you get what you want from your home without any extra hassle or expense! Everything will be totally cleared out with our house cleanout process.
We hope to be informative and helpful in outlining the steps for a successful house cleanout. It is important to keep in mind that each situation will be unique, so it's essential to work with an experienced team who can provide insight into what works best for your particular case. With our careful planning and attention to detail, you can ensure that everything runs smoothly during a challenging time. If you need further assistance or would like some additional resources on how to organize a house cleanout, please don't hesitate to contact us today!
For House Cleanouts,
Reach Out to Shields Estate Solutions Today.
(816) 651-8435
Let Us Know How We Can Help
Proudly Serving: Belton, Blue Springs, Excelsior Springs, Gladstone, Grandview, Hardin, Independence, Kansas City, Leavenworth, Leawood, Lee's Summit, Lenexa, Lexington, Liberty, Mission, Olathe, Overland Park, Richmond, Shawnee, Smithville, St. Joseph, and all surrounding Kansas City Metro areas.